Hey friends!  Welcome back!  Today we're check out a local spot which happens to be right around the corner from us.  Elysia and I have been in Orlando for almost 4 years now, but we're still setting down roots in the area.  We're still learning about the quirks about Orlando's scene, which means we've been doing a lot of yelping to find out new spots.  Sleeping Moon Cafe just happens to be one of those spots!
Sleeping Moon Cafe was created by Mark Gardner with one main thing in mind: Cultural Hub  Formerly in sales for pharma and technology, Mark wanted to create a great place for art, music, coffee, and food.  Six years ago, he and his partner planted roots right here in Winter Park on the corner of Aloma and Semoran.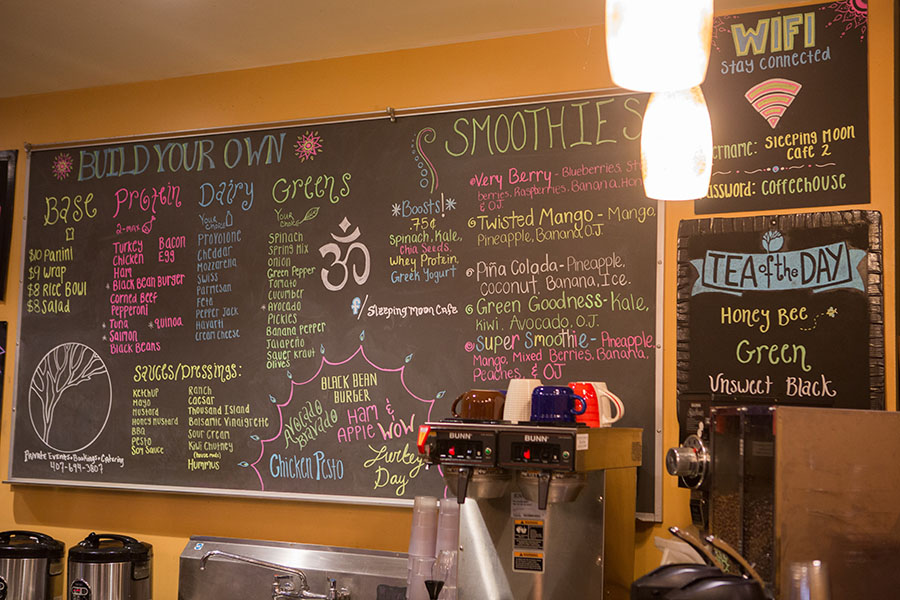 Sleeping Moon serves a variety of sandwiches, smoothies, teas, and coffees!  Most if not all of Sleeping Moon's ingredients are locally sourced. Bread, meats, vegetables, coffee, tea are all from the Central Florida area!  Even the kombucha and cold brew are bottled in Orlando!  Speaking of kombucha, he's got a few kegs of the stuff on tap, sweetened perfectly for any palate.
Last time I was here, I had a HUGE Reuben sandwich, perfectly pressed and delicious.  I wish I had photos of it because I ate it so fast, but Elysia had a fantastic Turkey sandwich with cranberry sauce!  Look how fantastic that is!
Mike gets his beans fresh from Golden Hills Coffee Roasters.  He believes that if you come into Sleeping Moon to enjoy coffee, it should be the best cup of coffee you can get along with a personal touch.  He made me a hazelnut latte with a little bit of coffee art!  Take some time and have coffee in the shop, and he'll take care of you! :]
Nestled in a spot right next to Full Sail and in range of Rollins, UCF, and Valencia, Sleeping Moon serves not only the local community, but also students looking for a place to eat and energize for studying and collaborating!  Not only are there lots of table space if you're looking to get some work done, but also couches for you to sit and relax if you're just hanging out with friends.
Every night, the cafe hosts live music from local bands or other events such as spoken word poetry jams and storytelling.  Sleeping Moon has opened its walls for a variety of art sourced from local artists, most of which is for sale if one piques your interest! (Support your local artists!)  The art is rotated quarterly so be sure to stop by and check out the new pieces going up!  And don't just look on the walls! On the shelves you'll find bottles, CDs, vases, and figures to purchase!
Sleeping Moon Cafe strives to give every person a taste of Orlando in not in just food and beverage, but also art and music.  Be sure to stop by and grab a bite to eat and really see what Orlando has to offer!  Sleeping moon is open 10a to 10p Tuesday to Saturday, 11a to 9p on Sunday, and closed on Mondays!  Be sure to tell them we sent you!
Be sure to check our gallery!
Thanks for reading!