Hey Friends! This past weekend, we were all over the Orange County Convention Center for  MegaCon 2016!  Why so late in the year?  Because MegaCon is now a big 4 day convention and is run on Memorial Day weekend the end of May!  We got a ton of photos, got to meet a lot of new people, and hang out with a lot of good friends!  Let's get to it!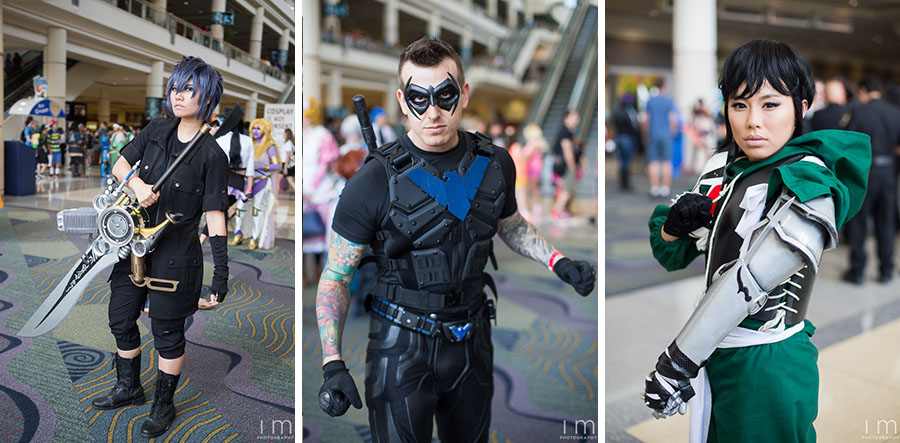 Back in 2010, MegaCon was the first convention I ever attended.  I had just recently acquired my camera 5 months prior.  Everything photography and cosplay was new to me.  Little did I know 6 years later, I would still be attending this convention as a proper photographer shooting cosplayers.
I know that people might come here to get an overview of the convention, but I'm going to start with a focus on the cosplayers I got to shoot this weekend.  And some funny behind the scenes photos! :]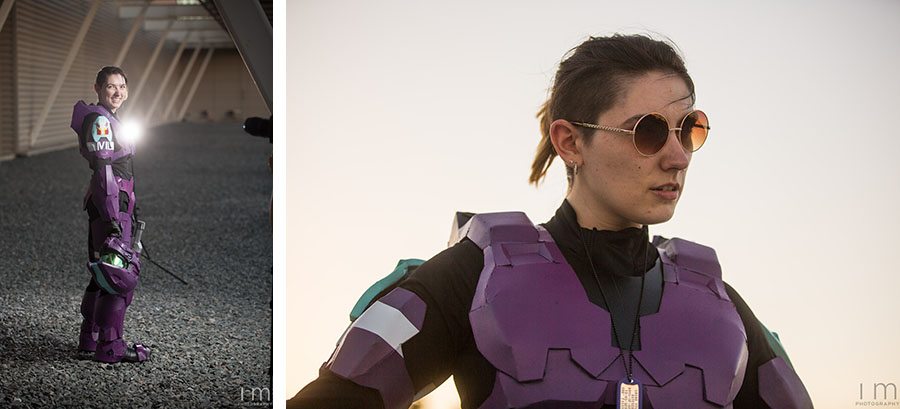 On Thursday I got to shoot my friend Alicia in her Spartan armor from Halo! We had met on Xbox Live through a friend and been playing Destiny for more than a year now together, so when she messaged me and asked me to shoot her armor, I was honored!  Her armor work is spectacular! We took advantage of the parking field and the backlot areas of the convention center to shoot!

On Friday and Sunday, I had the pleasure of working with Leslie and Amber!  We had worked with her for the first time this past AWA for a couple shoots, and come sign up time for MegaCon, they signed up for another couple shoots.  This time around, we shot both their Jedi Elsa and Anna, as well as Ruby and Yang from RWBY!

On Saturday, Lorena asked me to shoot her Kylo Ren from Star Wars: The Force Awakens.  My first thought was, "This is Florida and that costume is nothing but layers of black fabric and leather. Please don't die of heat exhaustion."   We shot in the darker corridors of the convention center to provide the mood.  Andrea also tagged along in her General Hux!  It's been a couple years since we've shot together so it was nice to work with her again! It's ALWAYS fun to work with Lorena.  We ended up our shoot with a silly photo of Kylo and Hux for their soon to be released mixtape…

Also on Saturday, I worked at MegaCon for the first time with Madison and Steven from Tallahassee.   We had met this past Holiday Matsuri in the "forest" next to the convention center where all the photographers love shooting.  Madison was in her Little Sister and Steven was in his Splicer cosplay from Bioshock!  I had never shot a Bioshock cosplay before so it was a new experience for me!  I loved the design of the game, but I never had a chance to play it.  Madison ended up having to explain a few things to me, but between that and the reference photos we dug up, I thing we pulled off a great shoot!

Last but not least, we go to work with our friend Chalisa in her Akane from Psycho Pass.  I had only watched a couple episodes of Psycho Pass so I was mildly aware of the look we should go for!   We waited for sunset on Sunday to get the proper mood.  We tried to look for some abandoned space to work with in the area, but decided against it because of… safety reasons. Haha!  So we worked around the north concourse, and made the most of it using lights and the clouds.  It's been a while since we've worked together, so it was a refreshing end to a long weekend!

In between it all, we shot some hallway photos!   It's been a while since I've been able to do it!  Usually my backlog gets so deep that I'm unable to deliver these photos in a timely manner, but things are different this year!   So many fantastic cosplayers came out with their best work for Mega.  Lots of Star Wars this year, as well as Teen Titans!  You'll find the gallery of hallway shots at the bottom of this post!

Thanks to MegaCon and the Orange County Convention Center!  MegaCon 2016 was a massive show!  We're not sure if we'll be back for 2017 yet, but you can bet that it's on our list. :]
Look out for more photos to pop up on facebook and our instagram once we take care of our reveal sessions with our clients (<3).   Next up on the convention circuit is MetroCon in Tampa, FL!  We'll also be in Atlanta this coming weekend for a wedding!
Thanks for stopping by!