Your cosplay is finished and maybe a convention is right around the corner, so you book your favorite photographer (maybe me? :] ) for a photoshoot.  Now what?  Here's a cosplay photoshoot guide to getting the most out of your shoot!
1.  Make sure you have everything!
It is the worst feeling to show up to a shoot and realize you're missing a critical element of your costume.  Make yourself a checklist before the convention to make sure you bring all your costume pieces and props with you!  Hats, weapons, trinkets, jewelery, food, scarfs, etc!  Don't leave anything at home!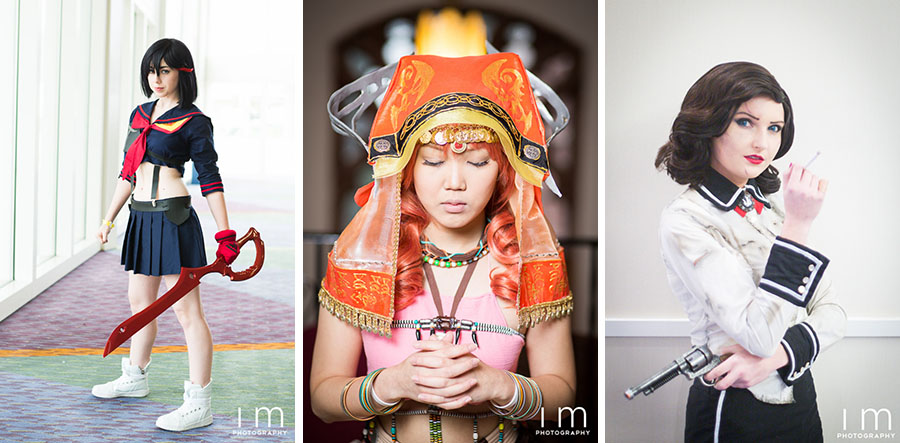 2.  Get Your Wig and Face Ready!
Make sure your wig cap is secure and your wig is ready to go!  Put in some extra pins! Get some extra hairspray onto those stubborn ends and do your make up!  Or get a make-up artist to do it for you! :]
3.  Bring back-up!
What do I mean by back-up? Bring a friend with you!  Not only is this great for helping you relax, it's also great to help the photographer relax as well!  Most photographers don't mind having an extra set of eyes to look over your costume to make sure everything is in place.  Also, back-up is any sort of materials that help keep your costume together like safety pins or glue!
4.  Be on time!
Schedules are very important be it at a convention or on location!  Make sure you get there on time! And if you can't make it on time, make sure you let all the parties involved know ahead of time! Being on time is especially important if the sunrise or sunset is part of the plan for your shoot!  :]

5.  Beware the Accidental Accessory!
Accidental accessories are things that don't belong with your costume, like hair ties and convention badges.  Try to throw them all in a bag or give them to your back-up! Photographers should alert you before they start the shoot, but sometimes between setting up the camera and lights they forget (I know I have).  No photographer wants to edit out something that didn't belong there in the first place!
6. Know your poses and environments!
Make sure you have a set of 3-5 poses memorized before your shoot!  Practice in the mirror at home or at the hotel!  Photographers try to do their research before the shoot, but just in case it's good to be ready for anything!  Be ready to relay what environments are ideal for your character as well!  It would be improper to have a war torn character posing in a posh hotel lobby.  Do your best to recreate the scene and character with the locations you have!
7.  Relax and Work with Your Photographer! Have Fun!
So you're finally ready to shoot with your photographer!  Communicate! Talk with them to make sure they know what you want out of the shoot.  Remember your poses, or look up ones on your phone! Remember to relax and have fun, too!  If you're nervous and stiff, it will show in your photos!  Have a good time and act the part! I always say this, but it's really important to have fun! :]

That's all for my cosplay photoshoot guide!  Hope this short little set of tips helps you with your first or your next cosplay shoot!  Did I miss anything major?  What are some tips that you have before going in to do your shoots?  Leave them in the comments!
Thanks for reading!
<3 imPhotography