Hey Friends!  We're going to take it back with our shoot with Laney and Julia in their Ayato and Touka Kirishima cosplays from Tokyo Ghoul!  We had the pleasure of working with them right after MomoCon!  We were supposed to shoot in Atlanta, but since we weren't feeling it and I learned that they both lived in Florida, we decided to take it back to Orlando a couple weeks after.  I'm sure glad we did!  Check out what we did!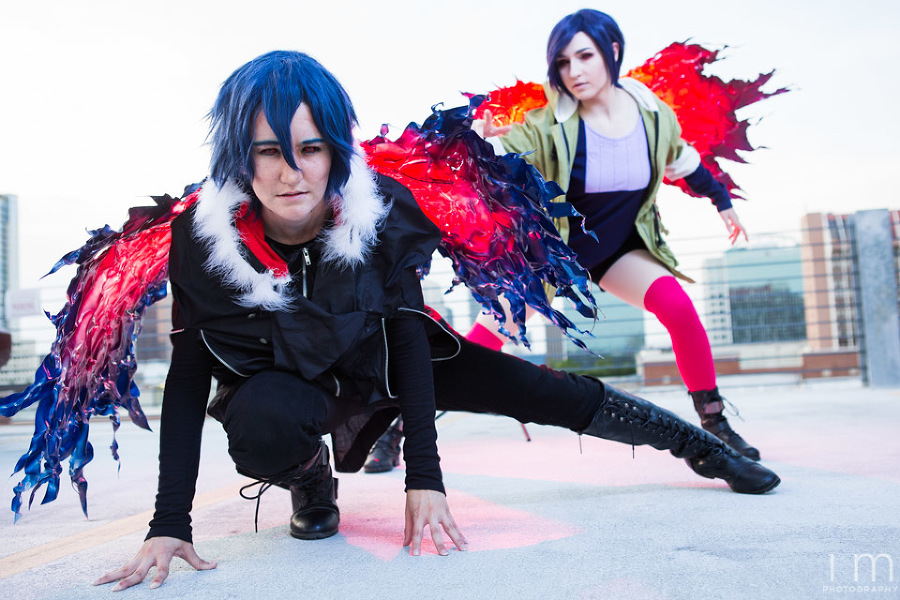 When we started planning out our shoot, Laney and Julia both mentioned a cool looking parking garage along the 408 by downtown Orlando.  Since I'm relatively familiar with the area, I figure we could give it a shot and quickly adjust our plans should it become nonviable because of security and such.   We were planning on using smoke bombs for this shoot after all!
Orlando does not have the most glamorous looking downtown, but the view from this garage did give us a nice view.  We decided to take advantage of the view for a few of our shots.

In Tokyo Ghoul, these two characters have the wing / claw like structures on their back known as kagune. Laney and Julia's kagune are made of a material called transparent Worbla, a lightweight plastic that can be warped and formed with the application of heat.  The greatest thing about transparent worbla is that you can fire a flash through it: a fact I took into account for all the photos we took!

As the sun started setting, we went back up to the roof of the garage and found an open spot.  Laney and Julia brought a bunch of smoke bombs to work with, and man they really did the trick.  Aundrea was great in helping smoke the hell out of the place to get this epic shot.  I'm glad we didn't get in any trouble! :]

Had a lot of fun working with Laney and Julia and trying new things with transparent worbla and smoke bombs!  Make sure to follow Laney at her facebook and instagram and Julia at her facebook and instagram here and don't forget to see our gallery below!
See you next time!