Two weekends ago, we happened to have a Saturday night free so we decided to check out The Geek Easy!  I caught wind that a couple of my favorite local geek bands would be playing along with a band from Austin, Texas that I love. And for free?  No brainer.  Check out the recap and the photos!
This was actually my first (and so overdue) visit to The Geek Easy, and I was impressed with the bar and the venue!  They had awesome '?' block lamps and Super Mario Bros. decorations strewn about.  I didn't catch any photos of the bar because I was already engrossed by the music.  I'll be sure to get some photos next time I swing by though! We got in a little late, but were welcomed with the music of Sci-Fried!  I first heard them back in 2012 at Nerdapalooza, and I've always enjoyed their energy and style.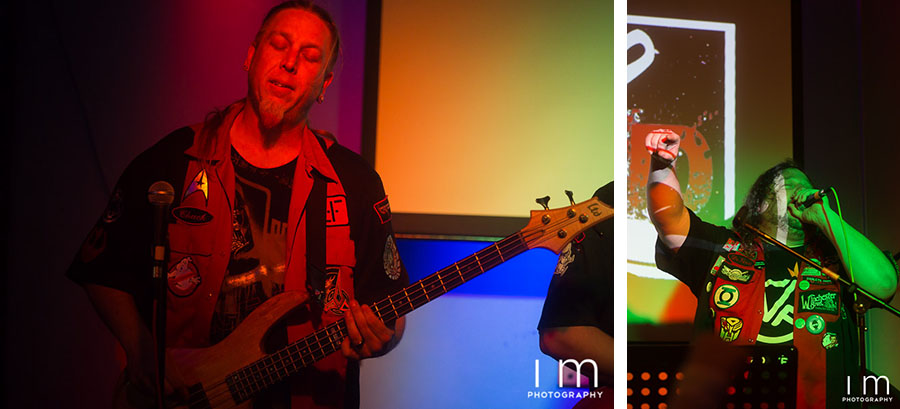 Random Encounter, one of my favorite local geek bands!  Their front man rocks and accordion.  Trust me, it's so slick.  I was actually surprised to learn that the guitarist was part of one of the first geek bands I discovered, Select Start. Glad to see that he's still doing awesome music! I really dig their covers of Sonic 1's Marble Zone and Zelda: Ocarina of Time's Gerudo Valley!  Shoot on over to their website and bandcamp to check out their music! I actually just missed their Big Blue music video taping yesterday (which happened to be at The Geek Easy)!  Apparently I thought they were recording on Thursday.  They're recording on Sunday March 3rd, 2015 at the The Geek Easy!

All the way from Austin, Texas, The Returners! I just missed their set and Orlando Nerd Fest this past year so I was gunning to see them again!  My first encounter with them was at Nerdapalooza in 2012, and let me tell you they left me with quite an impression!  I can't get enough of their sound!  They're a 5 person band, fronted by Lauren the Flute (who also happens to be an amazing singer), Wedge on keyboards, Lobos's on guitar, Danger on bass, and John on drums (who also sings on their Phantom of the Opera cover, it's so good). Check out their website, facebook, and bandcamp for their music!

Thanks to Orlando Nerd Fest and The Geek Easy for putting up a great event! I had a great time hanging out, listening to great music, and having great drinks. You can be sure I'll be headed back soon!  If you want to check out The Geek Easy yourself, they're located at 114 S Semoran Blvd, Suite 6,Winter Park, FL 32792! Head on over and grab a beer and try out the food!
Thanks for reading this short blog!  I'm trying to get blogs and photos out sooner after events!  I don't think I'm doing too badly! :] Check out my full gallery of photos I took at the event below and make sure to check out all the bands I mentioned here!  Support independent artists!
Thanks again, and as always,
<3 imPhotography