Hey Friends! It's Feature Friday so we wanted to feature our hairstylist ShearKatrina! We've been working with Katrina for about a bit longer than a year now, so we're overdue to show her off to all of you!
Katrina is a hair stylist at J Bauman Salon here in Orlando and has been styling hair for about 6 years now (about how long we've been doing photography)!  She studied her craft at the Paul Mitchell School and graduated in 2010.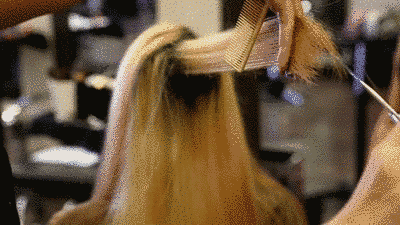 Elysia and I both trust her with our hair.  Elysia gets her hair colored, and it always looks fantastic.  She can even make my curly wavy hair look good, after years of being stuck in a blow out and wondering what the heck I was going to do with my hair! XD

Look at the two latest shoots we've done with her!  Jen and Courtnay look so freaking amazing. Every time she surprises us with her ability to work our clients' hair.  She's really the best.

Passionate and dedicated about her work, Katrina continually studies and improves her skills.  If she's not playing with new styles in the salon, she's teaching other hair stylists her craft or attending hair / makeup classes and conventions here in Orlando.  Not to mention she's a pretty awesome model.  I had to put these in here since when we're shooting she's super focused on her work, so it's hard to get a good behind the scenes photo of her. She's an absolute pleasure to work with, and I'm so glad she's part of our team. :]
Katrina is our go-to for all our shoots, glamour, graduation, and otherwise, in and out of Orlando.  (She's also my new blogging buddy.) If you work with us, you're almost definitely working with her.   If you're interested in having her do your hair, book her right here!
We <3 you, Katrina!  Thanks for everything!
Make sure to head on over to her facebook and instagram @ ShearKatrina and follow her work!  You won't be disappointed!
Look out every other Friday for our features!  We're not just featuring people we work with!  We're featuring friends and people doing amazing things in the world!   If you've got a suggestion, leave it in the comments below!
Thanks for reading!  See you next time!