Happy New Year!  It has been a long long time since my last post.  Between the weddings and the moving and getting settled I seem to have neglected my blog. DragonCon and AWA are about 4 months past at this point and I just got through the photos for those events!  I love Atlanta conventions for some reason.  There's just such a positive and glowing atmosphere and these events. And the cosplayers are stellar! So here it goes, we've got a lot to catch up on! :]
DragonCon – August 30th – September 1st 2014
Where do I even start with this convention?  The yearly convention of the year held in downtown Atlanta is the seventh largest convention in the country.  It's also quite possibly the biggest parties in the convention scene.
This convention for me is mostly just a hang-out-with-the-friends-I've-made-over-the-years convention.  I still take photographs, but I do it for mostly on my own accord.  The sessions I do take for this convention, I take them if I don't cross paths with them at other conventions.  Rightfully so, since there isn't much shooting space in the convention area!
One such group I got a chance to take photos of was this amazing NoFlutter Sailor Moon group!  I love the look of these costumes and I really wish I had the space to shoot them in properly, but the shots I got will have to do! :]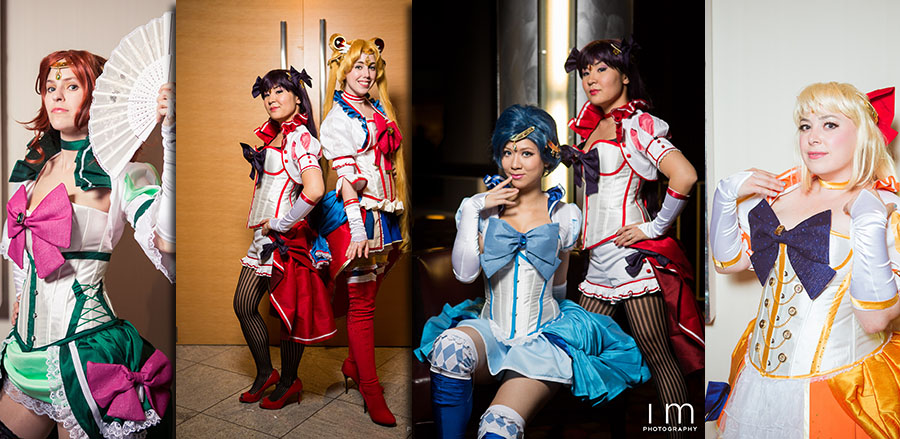 The great thing about DragonCon is that the whole city seems to embrace the convention!  One of my favorite things to do is to go to the Georgia Aquarium for their late night DragonCon event!  Not only do they hold their own party, but they also run their own costume contest!  Not to mention that they allow photographers to take advantage of the beautiful sights.
I could spend hours hanging out at this aquarium. The fact that I can do that AND enjoy photography and cosplay makes it even better!
DragonCon is a 4 (5-6-7?) day convention, but I didn't get as many shots as I would normally do at a normal 3 day convention.  I spent most of that time with friends and without my camera.  Sometimes it's better to experience life without a camera with you at big events!
Check the full gallery below for more DragonCon photos!
AWA  (Anime Weekend Atlanta) – September 26th – 28th 2014
AWA a.k.a. Anime Weekend Atlanta is one of my favorite little conventions.  The programming and artist alley are always awesome, and it's in a beautiful little office park in the Cobb Galleria that lends itself to lots of cosplay photography. Check out some of those shots!
Not only is the location great, the quality of cosplay that shows up at this convention is always impressive.  What I found really cute were these great UP cosplays!  I really loved the movie so I had to get shots of them! Isn't that Carl Fredricksen perfect?
I spent most of the weekend hanging out in those gardens shooting cosplayers!  If you want to see more of my photos, they will be in the gallery after the post!
Did you go to AWA or DragonCon?  Was there something that you particularly loved about each?  Are you going this year?  Hit us up in the comments below!
Thanks!
<3 imPhotography