First of all, Happy New Year!  It's been a while since our last post but the end of the year got kind of hectic for us!  New Year's Resolution: Post at least once a week!   It's weird because I used to bang out blogs in college 5 times a week (but I guess I had more spare time then, too).  We were lucky enough to start off the year with a set of shoots and our first convention of 2014: Animate! Miami!  I was fortunate to do some photography work for them this past November and December, and I could not pass up the opportunity to attend. This anime focused convention is in it's second year and is run by the same folks who put on Florida SuperCon!
Animate! Miami was held in the Miami Airport Convention Center, the same convention center that held SuperCon this past year (though SuperCon is moving to the Miami Beach Convention Center for 2014).  Areas inside and outside appropriate for shoots are sparse but we made due with what we can with walls and alleyways.  It was a pleasure to catch Ms. Nadyasonika and get a couple photos of her Tifa cosplay (above) and nice to finally meet Vi and get a photo of her Ada Wong!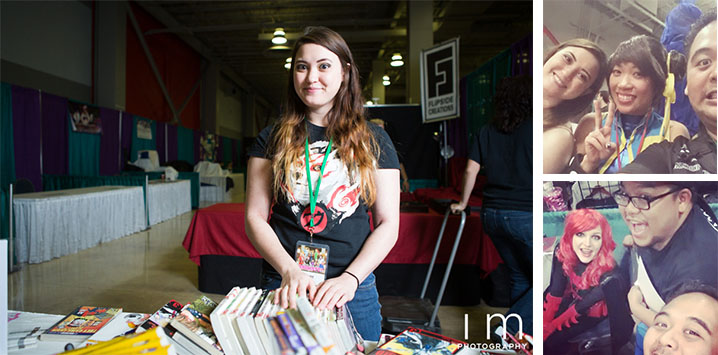 We were set up very kindly by the Animate! Miami staff with a booth!  Elysia used the opportunity to sell off a bunch of old manga and brand new patches.  We shared the booth with the beautiful Ms. Kaili a.k.a. Veron and bff Kimkashi. While it's fun hanging out at the booth, the thing about a convention booth is you have to be at it.  Since I would not be roaming around to catch cosplayers, I figured I would just set up my flash behind the booth and see who and what I could get.
As cosplayers would walk or stop by I would just have them step back to allow me to get a photo.  And in general, that worked pretty well!  I caught these two League of Legends cosplayers: a Kayle and a Pool Party Leona!  I just recently started playing LoL so it's nice to finally be able to recognize all the League cosplayers at conventions.  If you want to see more of booth photos make sure to check the gallery at the bottom of the post!

I was able to attend and shoot the cosplay contest on Saturday!  There were some amazing entries! I picked a few of my faves above.  Call me a bit biased. That Warhammer armor was ridiculous.  It's left hand articulates!  :]  The rest of these photos are also in the gallery below!
Sunday was a slow day as most Sundays are. I did sneak in a couple photos of a Kill la Kill shoot that Davin had cobbled together.  I finally got to get a shot with Ms. Chloe a.k.a. Sushi Monster as well!   We deemed Sunday as "Selfie Sunday" since the convention was closing up.  Make sure to hop over to my instagram and hit me with a follow! :]
Overall we had an amazing time at Animate! Miami and can't wait to do it again to kick off the year next year!
Thanks for reading!
<3 imPhotography