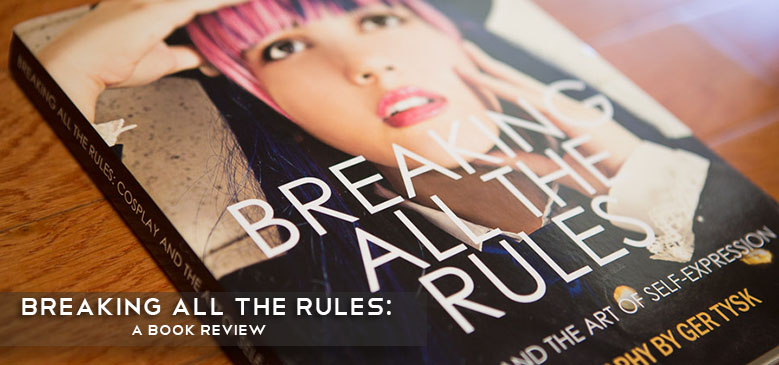 Hi friends!  Welcome to our first book review! Since starting this blog, I wanted to not just talk about my own photography work. I wanted to bring to light remarkable people and interesting work, so we're going to do a short book review once a month.  It may or may not be about photography, but it will definitely be worth a read. This month, we'll be taking a look at "Breaking All The Rules: Cosplay and the Art of Self-Expression" by Ger Tysk!
The first thing I want to say is that this book is beautiful. I can only describe it as a labor of love. Ger traveled to 15 different conventions across the United States and photographed and interviewed 300 cosplayers from almost every state.  Each cosplayer was asked a series of questions.  Every interview provides a personal insight into the world of cosplay through each cosplayers thoughtful and honest answers about life and the cosplay community.
It blows my mind to know how many photos Ger had to go through for this book. I love Ger's photography: her photos highlight each cosplayer and costume both at conventions and beautiful locations.  Every photo is artfully complimented by its cosplayer's interview.  The interviews are great reads, too!  It's refreshing reading about the passion and love that cosplayers have for their characters, community, and costumes.  For many, it's a release from the everyday runaround of life or a liberating feeling of expression.

Breaking All The Rules is a beautiful book not just to admire the costumes and photography, but to read about the stories and journeys of cosplayers in this sort of love note to cosplay. If you're not part of the cosplay community or if you've never even heard of cosplay, it's a great introduction to the geeky world of convention and costuming. If you're a cosplayer or a cosplay photographer, it's a reaffirmation that you're part of a lively, expressive community.   I highly recommend picking up yourself a copy!

Breaking All The Rules is available at StoreEnvy. This book is 216 pages, glossy softcover, full color.  $40 + shipping.
You can also find Ger's photography and cosplay on Facebook!
Thanks for reading, friends, and as always,
<3 imPhotography