What's going on, friends?  MetroCon was this past weekend and we got the chance to hang out, take photos, and do a few private sessions on Friday and Saturday! Gallery and recap ahead; let's get to it!
MetroCon is an anime convention held annually in Tampa, FL since 2003.  Along with the standard set of convention features such as dealers room, artists alley, VIPs and panels, MetroCon features multiple costume contests, a photography contest, a living chess match, fire spinning, and raves throughout the weekend!  The last recorded attendance according to Wikipedia was more than 11,000 people!
We took so many hallway shots this MetroCon.  SO. MANY.  We really wanted to meet people since for the last year or two, we spent most of our time doing private shoots. While we love doing private shoots, it's nice to break out of the routine.  Besides, meeting new people is fun!  Many of the super talented people I met I was already following on instagram, or one my fellow photographers has worked with them before.  You should see all the shots I got in the gallery below!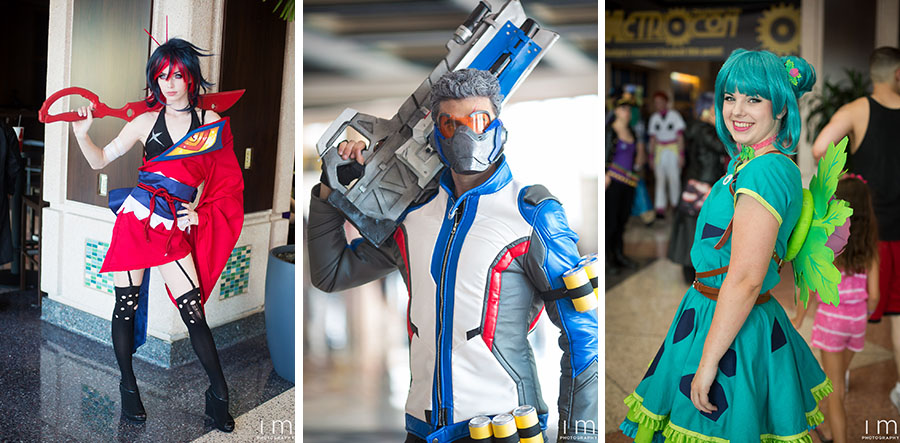 Around all that we had a few shoots!  I got the pleasure of working with Teppy for the first time!  I've never shot any J-Rock idols before so this was definitely a first for us!  It was my also first time working with Brit and her shironuri fashion concepts!  She brought along Cindy and Beth to the shoot to model for her.  Shout out to Frances and David, too!  Last time we worked with them at Holiday Matsuri, they were both in fur suits!  This time around, it was Baka no Test!  I threw some BTS funnies for you to see for now!  I'll be posting their photos on instagram at some point! :]
I'm blasting off on this post because we've got a lot to take care of before next weekend!  Back to Back MetroCon to AFO!  We'll be hosting a panel on Friday about Cosplay and Photography at AFO as well as doing cosplay sessions!  I'm sure there will be more to post next week as well!
Check out the gallery, say hi in the comments!
Thanks!